---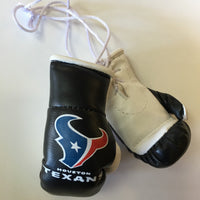 Texans mini boxing gloves!!

Plus FREE Matching Keychain!!!

Realistic design and shape, looks just like the real pro-gloves but only much smaller. These Boxing Gloves with laces are about 4 inches in size which is perfect for hanging on your rear view mirror.
Included in every purchase:

1 Pair of the Texans Mini Boxing Gloves
PLUS 1 Free Bonus Key chain!